RASPBERRIES
Honeywood Black Raspberry – 1945 – 1945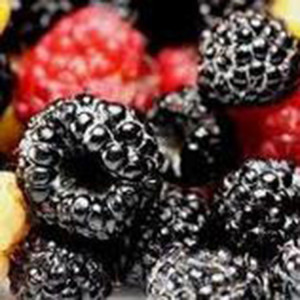 Price List description – This is our own introduction and is perhaps the hardiest black. It winters well when bent down so the snow can cover it and produces heavy crops of good sized black fruit that is splendid for pies or jam, and for eating fresh. 15c each. Does not sucker.
Honeyking – 1948 – Viking x wild
– 1951 Price List description – Our own selection from a cross of Viking by the local wild raspberry. Berries are smaller than most sorts but of very good quality for canning or freezing and fair for eating fresh. One of the best canning berries we have tested. Canes are extremely hardy and we have had good reports from growers in severe locations, including the southwestern region of this province. Honeyking is a very heavy producer. 10 for $1.00; 50 for $4.50; 100 for $8.50
Redman – 1961 – Viking x wild
– 1961 Price List description – This is the selection that has been offered for trial the past two seasons without a name. It is descended from the cross of Viking by wild that produced Honeyking. The plants are hardier than that sort and the fruit is better in quality. It is not as heavy a cropper. An early variety, it ripens most of its crop during the firs two weeks of the season. The berries resemble those of Viking but are somewhat smaller. They are bright red in color, firm, and do not crumble. Of top quality for eating fresh, freezing or canning. $2.50 per dozen, $4.50 per 25
We have one of Bert Porter's raspberries growing in the Memorial Garden, it is unknown which variety we have but the plants were taken from a group of raspberries known to be the last of his selections.