HoneyRed – 1971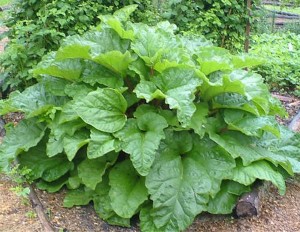 – Macdonald x Early Sunrise – 1971 Price List description – A new sort developed here from a cross of Macdonald and Early Sunrise. Equal in quality to Canada Red but more vigorous and does not throw as many seed stalks. In fact, it produces fewer seed stalks than any other red sort we have tested. Makes a bright red sauce. Takes less sugar than most rhubarbs. Each $2.50, 3 for $6.00
HoneyRed rhubarb is thriving at Honeywood and is usually found potted and ready for sale. The many plants in the field provide fruit for jams, jellies, relish and of course rhubarb pie offered for sale at our events.
SANDCHERRY:
Honeywood Sandcherry – 1956 – 1956 Price List description – This is a good sandcherry that has been quite immune to mildew here. It has very attractive coppery foliage in the fall and makes a good ornamental in addition to its fruit value. Own root plants (not seedlings) at $1.50 each
Large fruited hardy sandcherries were something that Bert Porter strived to produce. There is a fairly ample planting of sandcherries at the nursery, some of which definitely meet these standards.