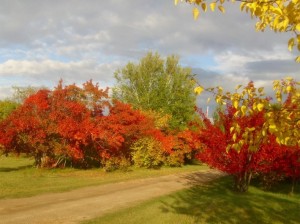 Our A Touch of Autumn on Sunday September 17th turned out to be an amazing day. Beautiful, sunshine with a great crowd of friends & supporters to enjoy the day with us!
A big thank you to our volunteers for their help in making the day a great one! Thank you as well to the staff of Honeywood for making the nursery look fantastic!
The nursery is now closed until next May…. the staff will be busy putting the plants to bed for the winter & re-planting lilies in the Porter Memorial Garden. 
Thank you to everyone who supported Honeywood over the course of this year and all the previous ones…. it would not be what it is without your support!
Have a great winter and we'll see you next May!!
Check out our Facebook page at:
Facebook @ Honeywood Heritage Nursery Inc
For updates & information!
Admission to Honeywood is Free except to our special events….donations however, are greatly appreciated.
School & Group tours please contact us at 306 -747-3307 to arrange a date for your visit!
'Contact Us' (honeywoodn8@gmail.com) for more information