Honeywood Saskatoon – 1973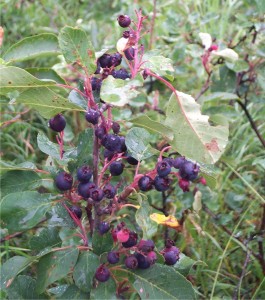 – registered with C.O.P.F. – The 1976 Report of the W.C.S.H. carried an article about Saskatoon Introductions in Saskatchewan including the following: Honeywood – (A. J. Porter, Parkside, Sask., 1973) Registered with C.O.P.F. and introduced by Lake Shore Tree Nurseries Ltd. Saskatoon and Aubin Nurseries, Carmen, Manitoba. Honeywood was selected from seedlings of berries collected from a select clone discovered by Mr. Porter near his Nursery about 1955. Bush near 7′ in height is spreading and produces few root sprouts and is very productive of fruit up to 1.5 cm in diameter and in clusters up to 15 berries each. Although the seeds are slightly larger than normal, they are less plentiful than normal, thus ratio of pulp to waste is greater than in normal berries. Fruit qualities are very good.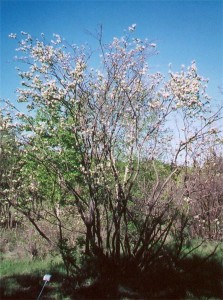 The original plant Bert Porter started from seed and thus naming Honeywood Saskatoon is still growing at the nursery, it was in very poor shape and was pruned to the ground in 2009. It has since come back very nicely and is once again producing fruit. The sister plants are still growing but are very old plants and therefore in very poor shape.