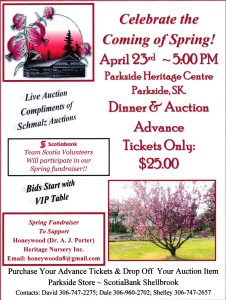 Join us for our Celebrate the Coming of Spring Dinner & Auction on April 23rd 5:00pm Tickets: $25.00 each
To be held in the Parkside Heritage Centre (old School) Located on 1st St West between 1st & 2nd Avenues in Parkside
If you would like to donate an item for the auction or order tickets, please contact us via our email: honeywoodn8@gmail.com
Purchase your tickets from: Parkside Store Or ScotiaBank in Shellbrook. You can drop off your auction items at both locations!
Contacts: Parkside Store – David 306-747-2275; Dale 306-960-2702; Shelly 306-747-2657
The nursery is Still  closed for the winter! If you have questions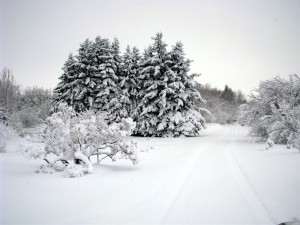 or would like to purchase a Honeywood gift certificate for a friend or family member please contact us via our email: honeywoodn8@gmail.com
Have a great Spring/winter and we look forward to seeing you in May 2023!!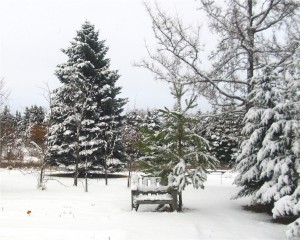 Check out our Facebook page at:
Facebook @ Honeywood Heritage Nursery Inc
For updates & information!
Admission to Honeywood is Free except to our special events….donations however, are greatly appreciated.
School & Group tours please contact us at 306 -747-3307 to arrange a date for your visit!
'Contact Us' (honeywoodn8@gmail.com) for more information